Members' Urgent Notices
The January Playlist has been posted. Please download and arrange your folders.
Please be aware that

to protect
Members and the Community
NSW COVID-19
Safety Plan is in-force.

Donation to Mawarra PS
Congratulations go out today to Mawarra Public School who received a donation of this fine Drum Kit from CAMDEN COMMUNITY BAND.
Director of Music Murray Bishop said that it was our pleasure to make the donation because we are a community group and it is important to support the local school's music program and the younger musicians in the Camden Community !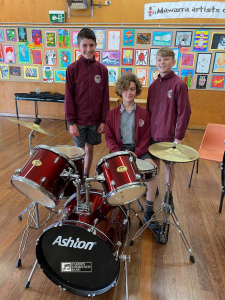 NSW State Championship – Concert Band 
CCB Concert Band Performances